When we camped or carry out any outdoor activity, we are always at the mercy of the weather. Cold, wind and rain are not always allies of adventurers. In situations of extreme cold, the body temperature may end up falling and causing a frame of hypothermia. Check out this article levels of hypothermia and what to do at the time.
Hypothermia occurs when the body temperature falls below 35° c. Even in Brazil, where we don't have a climate of extreme cold, this can happen in higher places, and especially in the South, in the winter period. When the intense cold is accompanied by wind and rain, the probability of the body go into a State of hypothermia is greater.
In addition, the lack of physical fitness, fatigue, poor diet and dehydration are aggravating that increase the risk of this problem.

Types of hypothermia
The most dangerous type is the one called Acute Hypothermia, a situation in which there is a sudden drop in body temperature in a short period of time (in seconds or minutes). This can happen, for example, when the person falls (or enter) on a water below 5° c.
However, it is more common to the type of hypothermia considered Subacute, which occurs when, due to the cold weather, the body temperature decreases gradually.
Stages and symptoms of hypothermia
The symptoms of hypothermia vary according to your gravity.As the temperature drops, the situation is getting more dangerous. The first signs of hypothermia, grab the thermometer is in your first aid Kit and check with which the victim is temperature.
Light: From 35° C to 33° C – the victim begins to feel very cold. In addition, you can check for signs of fatigue, tremors, rash, chills and skin cooling. Even at that stage, it could happen to decrease the motor activity, the ends stay purple (or grey) and one can be with confusion.When is still pretty light, hypothermia can be confused with extreme tiredness and end up not being diagnosed. It is therefore important to have a thermometer to measure body temperature.
Moderate: Of 33° C to 30° C – at that stage, the tremors become intense and one begins to lose motor skills. Still might be changes in the mood of the victim, which can become aggressive, depressed or lose self-criticism. In more advanced state, slows heart rate, tremors begin to disappear and the person tends to get very sleepy.
Serious: Less than 30° C – in this situation, the chills cease, the muscles stop responding, pupils dilate and the heartbeat become hardly noticeable. The person becomes exhausted and may lose consciousness and go into a coma. If the victim is not taken immediately to an emergency care, she could die.
Treatment for hypothermia
– Keep the person dry: If the person is wet, the first thing to do is take the damp or wet clothing and dress the person with a dry clothes.
– Heat as much as possible: bundle up the person as much as possible. Can be with camping equipment, with a sleeping bag (or more than one), blankets, or even with aluminum thermal blanket. Another tip to heat the person is warm water and put in a container, such as a squeeze, canteen or pet bottle, and put it in the armpits and groin, which are the places where they are the largest arteries in the body.
– Keep near a source of heat: If you have a heat source, such as a fire, place the victim next to it.
-Take hot drinks: To assist the recovery of normal body temperature, if possible give hot liquids to the victim, like hot chocolate, hot milk, tea or even hot water.
-Monitor the victim: Watch out for vital functions like heart rate and temperature.
– Do not leave the person to sleep. Never leave the victim sleeping, since hypothermia is also called silent death. When you're in your terminal, with the decrease of their vital functions, the victim tends to fall asleep and come to death.
Depending on the intensity of hypothermia, she can achieve the immune system and even cause some problem. Even if the victim appears rehabilitated, it is important to take her to the hospital to make sure there wasn't any permanent damage.
How to prevent hypothermia
Hypothermia is not an accident and can usually be avoided. For this, it is important to know what to do to keep the body dry and warm in extreme cold situations. Gives some tips below, because as our Grandma: "better safe than sorry".
Keep the body warm
Know how to dress to keep his body warm is critical if you intend to face adventures in cold situations. Never underestimate the cold, especially in places with altitude or during winter, in the southern region of Brazil. Dress in layers, using a second skin, fleece and a thick coat (or anorak) on top. If your coat is not waterproof, never forget a raincoat or another waterproof jacket. Another tip is to keep the extremities warm: don't dismiss beanies, gloves and wool socks. Are essential utensils in cold situations.
Always have dry clothes
As we have seen, the more serious hypothermia type is the one that happens when the person is with the wet clothes. Is there an important tip ever have a change of dry clothes and hot for this kind of emergency. If you don't wear a raincoat in the backpack, look any other way, in case of rain, keep your clothes dry. A tip is to use plastic bags to pack the clothes inside the bag. In a moment of hypothermia, if you are with the wet clothes and without a dry clothes to put on, you will be in a really serious situation.
Aluminum thermal blanket
If you're going to face situations of extreme cold, think of a thermal blanket as an indispensable item, which can be added to the first-aid Kit. The thermal blankets are small, light equipment, made exactly to keep the victim warm in an emergency situation. They are easily found in stores that sell items for camping and adventures.
Gallery
First Aid Posters
Source: safetypostershop.com
Girls can now join Boy Scouts. What do you think about …
Source: www.reddit.com
Hypothermia|Causes|Symptoms|Treatment|First-Aid
Source: www.epainassist.com
Cold Stress Hazards and Prevention
Source: www.slideshare.net
Recreational Safety Name.
Source: slideplayer.com
Cold Stress Hazards and Prevention
Source: www.slideshare.net
Basic First Aid For Hypothermia and Heat Stroke
Source: yourownhomestore.com
Basic First Aid For Hypothermia and Heat Stroke
Source: www.yourownhomestore.com
First aid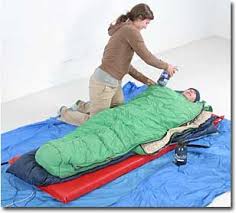 Source: www.ehsdb.com
Heat and Cold Emergencies
Source: slideplayer.com
St John Victoria Blog
Source: news.stjohnvic.com.au
Hypothermia and First Aid | Nursing Skillz
Source: pinterest.com
Winter is coming, and can produce unexpected survival …
Source: www.pinterest.com
Hypothermia Guidelines — REAL First Aid
Source: www.realfirstaid.co.uk
Basic Signs and Procedures
Source: slideplayer.com
heat stroke and hypothermia
Source: indulgy.com
First Aid for Hypothermia
Source: neckerman.com
Prosper
Source: www.prosperinternational.com
Hypothermia
Source: www.slideshare.net
What is First Aid? First Aid is quick help to ease
Source: slideplayer.com